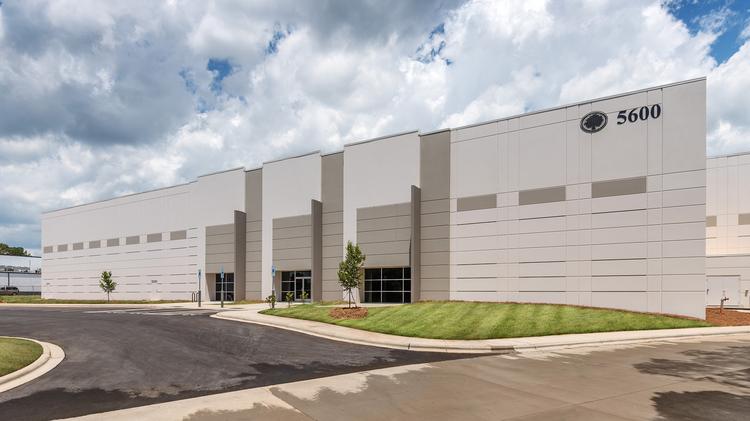 A New Jersey real estate firm continues to invest in the Charlotte metro area, with its latest acquisition — a big sales price for the market — encompassing three industrial properties in Mecklenburg and York counties.
Hartz Mountain Industries acquired 874 Paragon Way in Riverwalk Commerce Park in Rock Hill, and 5518 and 5600 David Cox Road at InnerLoop North in Charlotte. The portfolio sold for $52.2 million by Charlotte-based Beacon Partners, which developed the buildings.
The properties total 692,833 square feet and are 100% leased to tenants including Lowe's, BIC and Bridgestone.
Rob Cochran, Jared Londry and Nolan Ashton at the local Cushman & Wakefield office represented Beacon in the sale.
Cochran said in a statement that limited new construction in the region, strong leasing velocity and extremely low vacancy are attracting investors to Charlotte's industrial market. Londry echoed that sentiment, saying in a statement that pent-up demand for industrial properties from institutional investors created a "hotly-contested" bidding process for Beacon's portfolio, resulting in record pricing.
The portfolio traded for $75 per square foot. The InnerLoop North properties sold for $32.2 million, according to Mecklenburg County real estate records.
Hartz Mountain Industries, based in Secaucus, N.J., has been snapping up industrial properties in the Charlotte region. Its other holdings here include LakeMont West, an eight-building industrial park in southwest Charlotte it acquired last year for $63 million.
Rick Vanderbeck, vice president of sales and leasing at Hartz Mountain Industries, said at a real estate conference last month that the Charlotte metro area has strong economic indicators that make it a good market to invest in. Hartz Mountain also has a presence in northern New Jersey and the metro Atlanta market.
"I like the rent growth and I think it's a landlord-driven market," Vanderbeck said of Charlotte at the time. "We're very bullish on this market and we want to continue to grow here. This market is one of the best in the country for investment."
Read more at Charlotte Business Journal.